The first thing I would like to note is the incredibly creative and generous developers of the site. No other webcam platform offers various contests, events, and promotions with huge prizes, both for models and customers. PeekShows does its best to draw your attention right now, and I say it's worth both your time and money spent. This adult webcam not only allows you to register for free but also gives all participants awesome discounts when purchasing large token packages. Moreover, it is only the beginning. Apart from free membership, you will find that generous platform gives all newcomers 120 free credits as a welcome bonus. This means that you can test the platform and try some kind of pleasure on the site before you pay your money. Fancy learning more about this platform and its super advantageous offers? Ready to take a deep dive into the world of sexual excitement? Read on and be ready to reveal all your dirty fantasies on PeekShows!
PeekShows Interface Design and Usability
PeekShows is definitely a well-planned and professionally-designed platform. The navigation is made so that even newbie can find the hot chick to talk with. The site is made in black and pink colors; it is not cluttered, so nothing distracts your attention from the nude beauties.
On the top of the page, you can see a menu bar with such tabs: Live Chat, Videos, Profiles, VIP, Search, Calendar, and Direct Messages.
Live Chat consists of three categories: Live Girls, Live Guys, Live Transgender. Here you can find the model according to your taste and gender preferences.
Videos. Here you can browse the recorded shows from the top performers. Some of them are free, some paid. You can choose different categories and even buy the package of shows performed by a certain model.
Profiles include three subcategories: Profiles Overview, Flirt of the Year, and Flirt of the Month. Here you can browse the models' profiles to find someone special.
The VIP section is accessible only for premium members. Here you can choose one of the subcategories: Home, Daily VOD, Videos by Date, Videos by Model, Photo Galleries, feature Shows.
Search. You can choose a basic search by a keyword or use an advanced search where you can find a model by gender, number of performers, sexual orientation, breast cup size, body type, age, eye color, hair color, ethnicity, pubic hair, languages, body mods, and even weight and height. Everything is for the client's convenience.
Direct messages. Here you can cooperate with the desired model. This function is available only for registered users.
It is possible to sort the models by the categories. Group Show, Interactive, Adult Stars, Big Boobs, Cross Dressing, and this is only a glimpse of what you can see on this platform.
The site is multilingual, and you can also search by models speaking a different language, including English, French, Spanish, Italian, German, and Russian.
In the middle of the page, you can see the thumbnails of the model's profiles with their photos. Hang your mouse on the thumbnail and see what is going on in the room. Also, there is a section on the profile thumbnail with such features as Costs per minute, sexual preferences, notify if the model is online, email the model, and add the model to Favorites.
In general, PeekShows seems to have a modern layout with great navigation. All pages are loading quickly, and the videos play fast, as well. The majority of models use HD cameras, so there are no problems with the picture quality.
How Does PeekShows Work?
PeekShows offers two types of membership for its clients. In general, they are very similar. The only difference between basic and premium membership is that for the latter one, you should register your credit card (and verify it) to renew the membership on a monthly basis. It is possible to log in as a regular member. However, in this case, you will not receive free credits.
Basic membership is absolutely free, and there is no need to give your billing information. This way, you can check around all the models online and see whether this platform meets add your dirty desires. However, this type of membership has a strong drawback. You will not get any free credits (tokens) until you upgrade your account to the VIP member.
VIP membership requires paying a monthly subscription and gives you an array of advantages. As soon as you verify your CC number, you will receive 120 free credits and a large list of benefits.
How does it work, you ask? On the main page, you will find all the girls online at the time of your visit! After you choose the baby to play with, click on the thumbnail. The girl will be waiting for you in front of her HD camera! Yes, low-quality cameras are not about this platform! If you want the girl to be with you and only with you, you will have to invite her to the private Chat!
Apart from adult chat rooms, you can make the most of the additional functions PeekShows offer to all its users. First of all, it is possible to control the video chat size. At any time, you can switch to the full-screen mode or enlarge the size of the picture without sacrificing the image quality. This way, it is possible to view the necessary details and make your sex adventure even more interesting.
Another feature that will amaze every user is a cam girls' blogs on Peek Shows. It is possible to look through the ladies' blogs, examine their explicit nude pictures, adult clips, and witness dirty stories. I understand, most clients of such platforms aren't all about reading, but these stories are worth the attention since they are more exciting them 50 Shades of Grey.
You will be blown away from the Bank and Wallet feature. This feature will give you an opportunity to control your funds completely. It is possible to store your credits in an online wallet or in the PeekShows online bank. Just choose the best option for you.
One more interesting function is direct messaging. The performers initiate messaging with clients who are either in their chat rooms or are added to their Favorites lists. It is worth mentioning that only premium members can respond to the texts.
I couldn't mention special promotions available on PeekShows. Comparing to other similar webcam sites, this one stands out from the crowd due to such beneficial offers.
Once you upgrade your account to VIP, you will have an opportunity to achieve extra credits.
If you are planning to buy the biggest credit package, you will get a discount.
Free membership with all the functions of the site available.
Happy Hour promotion.
Double Credits Mondays. You can size the chance to watch the twice long performance for the same amount of credits.
Daily promo contests.
How to Signup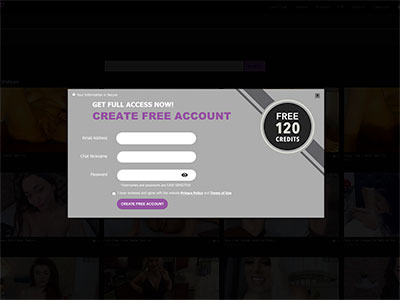 To sing up PeekShows is extremely easy. All you need is to provide your username, email address, and password. The procedure of registration isn't time-consuming, and it is absolutely free of charge. It is worth mentioning that you have to agree with the website Privacy Policy and Terms and Conditions.
Members structure & activity
PeekShows doesn't specify how many models are registered on the platform. At the time I was writing this review, there were around 500 cams online, which is pretty much! Just imagine how many hot babes are performing at the same time. I am sure. You will definitely find someone to chat with and reveal all your dirty fantasies.
You will find a selection of excellent adult models, divided into categories: 69, Asian, BBW, big boobs, black hair, brunettes, couples, dildo, dominatrix, hairy pussies, but all that fucking, no matter what! Yes, I'm proud of this catalog of awesome babes! You can even flirt if this is what you are looking for, and you do not want to look at the hardcore pussy pleasure in a private show! All these girls are here to entertain you and make your life better! You can find a model of any body type and hair color. I am sure that you fucking will have the best time in your life!
Users profile quality
To create an account, you must provide such information as a real first name/last name, telephone number, email address, country as well as specify your sexual preferences. Moreover, it is necessary to specify your nickname, contact information, as well as a description of your profile. In addition, PeekShows will ask you to validate your credit card information in case you want to join the platform as a VIP member.
How much are PeekShows tokens?
PeekShows uses a special currency – credits. You can call them tokens if you want.
There are basic credit packages:
25 Credits for $30.
50 Credits for $58.
100 Credits for $113.
200 Credits for $222.
Those who want to try a private show must be ready to pay five credits per minute. If you want to invite two babes to the Chat, you should pay ten credits per minute.
In addition, you might be interested in the average prices of webcam chats. They are like these:
Public Chat Rooms – Free, but they are mostly dressed.
Private Chat – From $0.98 to $4 per minute.
Group Chat – About $10 per minute.
Spy Chats – Approximately $2 per minute.
Special features for premium members
Premium members are the users who make a monthly payment and receive various additional benefits. It is possible to choose one of two packages.
The $39.95 package gives you an opportunity to obtain all the listed below features the listed advantages along with 150 credits.
The $49.95 package. Apart from all the advantages, you will have an opportunity to get 300 credits.
Signing up as a VIP member allows the models to understand that you aren't a stranger who is just passing through, you have a serious intention to develop sexual relations. By obtaining a VIP membership, you are going to use such advantages as:
Your text will appear gold in all types of chats.
All premium members achieve 33-40% off on Show Pass purchases.
Unlimited access to the private room of any Feature Shows without charging any extra fees.
Access to VIP archives, which include up to 1,000 hours of top content.
200 VODs on a daily basis.
3 FREE videos each month.
All VIP members receive 5% off when buying videos.
PeekShows Video Chat Experience
I was rather impressed by the extensive number of models available on PeekShows. Moreover, believe me, all of them are different. You can find both male and female couples, trances, as well as sorting by the popularity of the models, the date of their registration, and the language they speak. Overall, the platform is great. The models are also magnificent. They probably know how to provide a pleasant show. Many of the Chat in free public sessions until they are picked up in private.
As for me, I decided to become a VIP member of this platform as PeekShows opens up a variety of opportunities and different sex experience. So why not enjoy it every time you want to relax?
Conclusion
PeekShows is currently holding a promotion for new entrants, and I urge you to take full advantage of it. This website is definitely worth your attention and investments. Along with the wide variety of babes, you will get exclusive features that you can't find on other webcam platforms. So, don't hesitate and start your wild sex adventure right now!