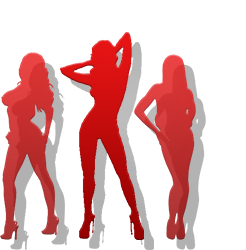 Choosing big butt webcam shows is often difficult as there are often poor quality videos or fully paid membership with no free options. If you constantly encounter such types of difficulties, the FuckOnCam service may be the best choice for you! It is an international erotic website where both models and members from all over the globe are connected. You can preview any of the booty girls webcams, so we are sure you will discover your dream model showing big ass here! Sign up and create your free account with an outstanding and unique name. This way, your favorite models remember you when chatting and pay special attention to your wishes. Do not miss the opportunity to enjoy ass show porn and reward the girls for their studious diligence in attempts to please you.
Free sex chat on the platform is developed in a comfortable way for men who do not like small talks but prefer live sex chat instead. You do not need to ask your model how her day was or whether she managed to do everything at work in time. Girls want sex, not everyday talks. So discover sweet conversations with sexually liberated big booty girls in free chat rooms on FuckOnCam!
There are 11 filters that you can use to find the most suitable model performance and make your chatting experience unforgettable. As such, there are attributes that you can filter such as gender, age, hair color, eye color, height, ethnicity, body type, bust penis size, pubic hair, language, and quality of the camera. If you love watching big ass girls, you can select the respective category out of 39 of other possible chats. These also include such chat categories as housewives, high heels fetish chat, big boobs, MILF chat rooms, curvy girls, and many others! Let us look at the platform's specific features in detail.
Horny Booty Girls on Webcam
All beautiful girls here on this platform are ready and eager to communicate with you in free chat rooms. They feel so lonely and want someone who would guarantee them some quality fun. There are no restrictions on desires. So if you wish to chat on an intimate and private topic with pretty girls showing asses, you should definitely try this website. Here you will experience fresh mind-blowing and extremely hot talks! You can choose to start a conversation with a blonde or a red-hair, Latino, white, or ebony babes, with tattooed or small tits girls, and many others. When filtering your choice, you can select women or men aged 18-19, 20-25, 26-30, 31-40, 41-50, and 50+ who speak English, Italian, French, Spanish, Czech, Russian, etc.
You may opt to watch an attractive girl, a sexy couple, a remarkable guy or even a transsexual. Participate in hot peep shows and support new models. Set free your desires and allow yourself to dive into the world of live big ass shows. Here on FuckOnCam, you may find simply a good way of spending some time, partner for quality sex, or, who knows, maybe even true love. More than 10,000 online models play with their pussies and asses right on your screen in front of you for free!
Girls showing butts are ready to serve in an ass chat
When clicking on a certain girl, you will find brief information about her age, weight, height, language, and other important stats. There is also a description of men that a girl prefers, what turns her on, and a table with a schedule of her most active hours online. If you like a certain girl, you may scroll down the page to see more similar models to your taste. You can ask girls anything you want, any type of sex you desire. When you want to ask your beauty for a big booty show, you will need to reward her with tokens, so she knows you care for her performance. The more tokens you send, the more eager the girl will be to fulfill your wishes.
The option of private chats is also available. Once you invite the girl you like to a private chat room, she will not be available for others during the paid period of time. You will be the only observer of the girl showing butt and this is when you can set your imagination free and enjoy her attention to the fullest! The girl will touch herself where you say, turn the way you order, do the things you ask, offering her body into your possession. Once you say "show me big ass", she will do this. You will not stay indifferent. You will not be able to resist the urge to touch yourself when you see the desire of you and only you in her eyes. You will hear her voice calling your name when she culminates, you will know her moans are meant only for you, you will see her cum because of you. Doesn't this sound hot? Isn't it worth trying?
Sign Up to Get Started with Big Butt Live Cam Show Immediately
The process of signing up is extremely easy. You do not need to provide information on your credit card or even email if you are going to use only free options. You just need to type in your future nickname, create a safe password, and click the "Sign Up" button. Once you are registered, you are presented with 5 free tokens. You can start chatting with all models on the platform and enjoy sexy experience immediately. However, if you wish to have more tokens to reward your favorite big butt girls, you will always have the possibility to purchase Gold status. By buying additional tokens with your credit card, you receive the status of a Gold user and get access to other paid options. These include up to additional 5 free tokens, free unlimited access to all features of video chat, availability of Full-Screen mode, limitless private messages, and other bonuses and hot offers.
Registered users get additional benefits for big butt cam shows
There are multiple advantages to using the platform. First, you do not have to provide your credit card number or other personal information for registration if you do not want to. However, when buying tokens you may be sure your data is securely protected and will not be translated to third parties. Second, there is no paid membership so there are no payments that need to be provided on a regular basis. Pay only when you want to buy tokens for live big ass show. Third, there are no hidden and unexpected write-offs that are popular on many rival platforms. You will feel safe when you know that your money is safe. No shadow business. Everything is clear and fair.
Moreover, registered users are more welcomed by models than non-registered ones. Girls love seeing who watch them. When you chat with a sexy chick and ask for a girl show butt performance, she may remember your nickname and talk to you directly, which will definitely brighten your mood and boost your energy and motivation to new experiments! She noticed you among all other guys, that is the achievement of a real man!
Conclusion
The platform with webcam butt performances differs from its rivals in many ways. First of all, the registration procedure is simple and free. Then, there is no paid membership, which eliminates any responsibilities or monthly write-offs. Next, you are safely protected from shadow business or unexpected expenditures. Moreover, your data is kept secure and won't be transcended to other parties.
There are also multiple filtering options that make the search processes much simpler. 11 filters with dozens of variants will definitely lead you to your perfect choice of bigbutt show. Also, there is a convenient search by category, so you can choose to watch a webcam big ass show right after you click the category button. All beautiful and horny girls are striving to get your attention here. If you want to enjoy quality big butt webcam experience, choose FuckOnCam!