Pretty much like all other webcam services, Bongacams offers some of its features for free but always charges for the kinkiest services. So, if you're really looking for some action, you'll have to keep your wallet near. Another thing that makes Bongacams stand out from the crowd is that both parties seem to clearly know why they're here, so the whole experience is pretty straightforward. But, before we even get to how much you're expected to pay, let's see if the site has any features worth paying for.
Bongacams Interface Design and Usability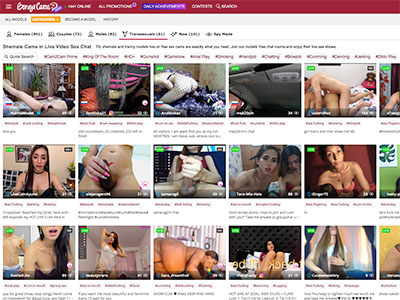 As already mentioned, the site seems to target Eastern Europe and Russia, so many people from the US will find Bongacams interface pretty outdated. The colors are just not as bright and flashy as we're used to, and the whole theme is boxy instead of smooth.
All of this would be tolerable if not for one thing — user navigation is pretty illogical. From the homepage, people can access a list of categories that are ordered alphabetically. So, the first preference is 'anal,' while the last one is 'white girls,' with a total of twenty more in between these two. No chance to customize this graph and no regard for popularity either — just the good old-fashioned alphabet order.
Next, when you take a look at the header menu, you'll see that things could get even worse. Right next to the 'all models' tab, there is a tab with 'all contests,' which makes way more sense for performers, not the actual viewers. Next, there is a final tab that leads you to an entirely different website that focuses more on watching than on real interaction with the models.
So, when it comes to logic and user-friendliness, this site does not seem to win any points. It looks more or less the same for models and viewers, and the fact that management does not seem to target paying clients' comfort is a bit unsettling.
How Does Bongacams Work?
The actual logic of using Bongacams is the same as on pretty much any other webcam service. Non-paying members can watch the girls do some minor action on cam, but to really spice things up, they are expected to pay for a private show. There is quite a lot of free content, and some models choose public performances so they could earn tips. Still, for a non-paying client, this means waiting until other users tip the model enough so she'd get naked. This is possible but does seem to depend on your luck.
As for the rest, spying on other people's private sessions, as well as engaging in a private chat of your own, will cost you. Not to bury the lead, Bongacams are more affordable than most other services, which somewhat compensates for their clearly budget design and weird website structure.
Another thing that makes Bongacams different is that any user, even a basic one, can reach out to models and talk to them directly. This gives two (or more, couple sessions are also available) consenting adults a chance to agree on the price quickly enough. As we've already mentioned, this site is more about business than performance, so unless you're ready to discuss private room costs with the models, this free message feature will not get you far.
How to Signup
The sign up is quick and simple — even though, like any other webcam platforms out there, Bongacams require manual registration. What's great about these guys is that they are not very picky about nicknames and passwords, allowing anyone to create and verify their new user accounts in a matter of seconds.
All in all, it seems that the site invested a lot of effort into making the registration as quick and straightforward as it could possibly get. In turn, they expect viewers to get to the point quickly — that is, reach out to models and spend some cash on their services. We'll get more detailed about fees later, but first — let's take a better look at the user and model selection.
Members structure & activity
The site seems a bit secretive about its user database, obviously protecting the models' and the clients' privacy. There is little info about the actual numbers, but there always seems to be somewhere between 200 and 800 performers any time you log in the site. Female models are the obvious majority, even though it's also possible to find men and trannies on the same site. However, users need to specifically navigate to the relevant section of the website to find these shows, and preferably — save their search parameters. Otherwise, such profiles and performers will not be highlighted.
As we already mentioned, Bongacams target Eastern Europe and Russia. Not only most watchers but also most models seem to come from these regions. In the US, this site appears to be most popular in Florida and Nevada. Still, even despite such limited geo-focus, the website should not disappoint when it comes to ethnic diversity. It's quite easy to find a little bit of something to anyone's liking — from slim blondes to busty brunettes. With a little bit of patience, you will also find a couple of sexy Latinas. So far, the only demographic that's truly absent from the site are the Asians.
Also, you will not find any professional models or porn stars on Bongacams. The service places a strong emphasis on amateur shows, which partly explains its affordable prices. Still, most women seem to be in their twenties and early thirties. So, geolocation aside, Bongacams does not offer anything truly revolutionary in terms of demographics. Mostly, it is all about young, amateur models that will do whatever you want them to if you're ready to reward quality performance.
Users profile quality
Speaking of quality, most profiles have quite a lot of revealing pictures. However — as one would expect — they do not offer much in terms of information. This is, of course, understandable because models and watchers alike always try to keep this info confidential. You will not see any full names or lengthy profile descriptions. Usually, it all goes down to some pretty standard nickname and a couple of lines in bio. Most models use this graph to describe the kinky stuff they like doing.
Still, a lot of performers seem to add plenty of pictures and videos to their profiles. With little text involved, we'd call such system an obvious win because — come on — you did not come to the library. So, Bongacams do win a couple of points on profiles — those are brief and generally non-distractive.
How much are Bongacams tokens?
Bongacams tokens are the primary credits of the service. Unlike some other sites out there, this website does not offer any regular subscriptions that allow users to direct message the models. Communication is free, but to see a good show, one is expected to upload tokens. These virtual credits are bought in bulk, but unlike many other services out there, Bongacams does offer a chance to start small.
The minimal amount of tokens one can buy is just 15, and they cost 1.99 Euros. Yes, since it's a European site, all prices are in Euros. Depending on the exchange rate, that usually gives people slightly over two bucks. Most of the time, this amount means three or four minutes of live chat, so it's basically all teasing.
The maximum amount of tokens to purchase is 705, for 65 Euros in total. Such a batch will last a little longer, but still — the exact costs of using the service depend on the prices you negotiate with the models. Still, given the average cost of tokens on most other webcam services, we'd have to say that Bongacam costs are slightly below average. But once again, it all depends on how much you chat and who you're chatting with.
On average, 250 tokens for 25 euros (approximately $31) should last around half an hour, which is usually enough for a good show. Some other platforms may charge up to a hundred for a private session, so this cost is truly impressive. And, when using public chat rooms, you can always hope that some other viewers will do most of the tipping.
As for the possible payment options, Bongacams accept all major debit and credit cards, bank transfers, and even cheques. All payments are made discreetly, with no mention of an adult service on your bank statement. Another perk is that this site accepts a whole range of cryptocurrencies, which allows a 100% anonymous transfer for those who prefer to keep thighs really private.
Special features for premium members
As already explained, only paying and tipping clients can hope to see a good show. While there is no fixed priced premium subscription in its classic sense, the website is still a paid platform. Still, Bongacams does allow its users to reach to all models, making it possible to negotiate all details of a private chat whenever they feel comfortable. This is a huge advantage of the service because most other platforms restrict communication between models and viewers until viewers decide to pay for a monthly subscription.
Once again, this makes the average cost of using the service more affordable, which is one of Bongacam's competitive advantages. However, the actual expenses will always depend on what exactly you're hoping to see and who's performing. On the whole, it's possible to check the list of performers' specialties in their profiles and agree on something via a private chat. Most models seem to be pretty cooperative, and they usually clearly state what they will or will not do.
Bongacams Video Chat Experience
Despite the site's outdated design and not very comprehensive structure, the video quality is good. It really has something to offer in terms of tech, so it's good that neither the site management nor the models are compromising on equipment. On the other hand, we've already stressed that Bongacams is about business, so it's great they take a technical, video aspect of it seriously. The audio aspect of the live cam show is also quite impressive — no delays, clear sound and picture, everything loads fast, doesn't ever seem to freeze, etc.
As to how much people are going to see without cashing in — really not much at all. Someone always has to pay the models, so the only way to enjoy the show without tipping is to watch public shows with multiple watchers. Then, if other viewers have tipped the model enough, you get a chance to see something interesting. Otherwise — no, you always have to keep your credit card at hand.
On the other hand, it's great that Bongacams allow users to send models direct messages and give performers a chance to reply. This makes it way easier for the people to agree on the terms and enjoy fruitful collaboration with each other. It's more than most other webcam sites offer, so heads up on making things simpler — that, too, contributes to a better video chat experience because both parties in a private chat room know what to expect from each other.
Conclusion
All in all, Bongacams is an average platform at best. But, it may do for people who do not mind a bit of a business-style attitude. In such a case, site advantages are obvious because this platform is simply more affordable than the most. On the other hand, the site does not seem to get too many new models, so even their ethnic diversity may eventually lose its charm. Once again, no one forces you into any regular subscriptions, so the moment you get tired of it, you can simply stop coming back. From this perspective, the site could be worth a shot. If, of course, you do not mind an outdated menu and confusing navigation.