Well, yes. And no. It depends on your sexual preferences. You might have already noticed that girls do not use many cam sites that much — not unless they're getting paid for performing on camera. So, the majority of DirtyRoulette users are men, which means the site is a massive naked men party. Well, that sounds pretty fair for gays who should read on our DirtyRoulette review — there is quite a show for you guys. But, straight guys should not rush to quit on the review either. There is a way to see girls only, but it will cost you — pretty much like on any other cam site. Find out whether the show is worth your money or if you're going to love the show even without spending a single dime!
DirtyRoulette Interface Design and Usability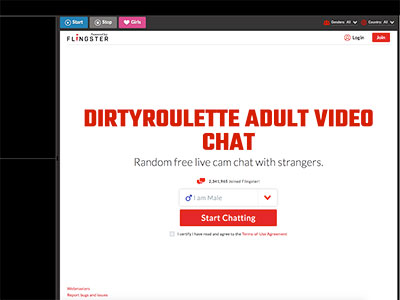 DirtyRoulette interface is incredibly simple — anyone will be able to figure it out. You don't even have to be a regular sex chat user. It feels like the person who sees a computer for the first time will still have no problem navigating around the website. Essentially, it all goes down to two windows — your video stream and your roulette partner's video stream.
It's possible to disable your cam, but mind that it's also possible to filter only to those users who are currently streaming. And, many of them have this option ticked. On top, there is a huge red banner "Connect with only girls" that's hard to miss — this option will cost you, but we will get to that part later in this review.
Next, some settings can filter out users by country. English speakers do not necessarily have to bother with that because most cam users have at least some necessary English skills to communicate. But, if you're interested in a particular country or ethnicity, this option (also hard to miss) may come in handy.
Finally, there is a 'start' button that, essentially, rolls the dice and connects you to a random webcam. Once again, you will not miss it. That's pretty much all the functions DirtyRoulette offers to its users, and every option is in a big, colorful block, even a visually impaired person would see. So, on the whole, the navigation is pretty good — mostly because it's pretty simple. Still, no one in their right mind could ever call DirtyRoulette a feature-rich site.
How Does DirtyRoulette Work?
DirtyRoulette logic is as simple as its user interface. All you have to do to start a naked webchat with someone is to click a 'start' button. Then the dice are rolled. But wait! We didn't mention setting out any sexual or even gender preferences so far. Well, that's because DirtyRoulette does not have them. Without a paid membership, you can choose a country, you can choose only users with webcams on, and you can click on a start chat button. But that's pretty much it — so welcome to the naked men party we already mentioned in the intro.
Now, if you did not come to DirtyRoulette for that, you can click on that huge red banner that offers you to chat with girls only. For that, you will have to subscribe and become a premium member — which, of course, will cost you. We'll discuss the costs a little bit further below, but if you're wondering what you can see for free, then the answer is — naked guys mostly.
You can, of course, leave the random room you do not like, but you can click for hours and still not see a single girl. Because, as you may have already guessed, they're all in the paid section. Suppose, you still want to go — let's see how you can get there.
How to Signup
The registration with DirtyRoulette takes around 20 seconds since all they require from new users is a nickname, a password, and an email address. Oh, and you do have to tick a couple of extra boxes. In the first one, you have to agree with the site's terms of service. They don't collect your data, they prohibit violence, spamming, and other blah-blah no one ever bothers to read. The second box you need to tick is your age — so, you state that you're at least 18 years old. And they believe you because of no proof of identity, not even an email verification, is required. That's it; you're ready to chat!
Members structure & activity
Technically, you can try your luck diddling with a webcam on DirtyRoulette even without an account. Besides, given that no one is required to fill in any profile details, verify their age, mention their sex, and so on. It's no wonder that there are no user structure and activity stats on DirtyRoulette. The practice shows that most users are, indeed, men.
If we take a look at DirtyRoulette traffic, we'll see that the majority of users (over 20%) come from Argentina. Chile and Spain take the second and the third spot, respectively, with over 18% of visits. Colombia occupies the fourth position, with slightly over 17% of visits. Spot number five goes to Venezuela, with approximately 9.5% of visits. The remaining 240+ countries each account for less than 9% of visits.
Ok, so you got the point — unless you pay to see girls only — it's mostly Latino guys you'll be watching. On the other hand, this party seems to be pretty exciting because DirtyRoulette claims to have over 250 million unique users. We assume that most free users either enjoy watching naked men on camera of enjoy being those naked men. But, hey — why not? The idea is refreshing because there are few sites like these.
Users profile quality
The concept of user-profiles on DirtyRoulette is practically non-existent. The whole point of using this platform is complete and utter anonymity. You do not even have to indicate your gender manually — the software figures it out for themselves. Supposedly, simplicity is the key, but in practice, the whole logic of the service may get weird. But, then again, no one will argue that it is roulette, indeed. So, it depends on how lucky you are, what you want to see, and what you want to show.
How much are DirtyRoulette Premium Membership?
Not to bury the lead here, it's only 20 bucks a month and is billed discreetly. DirtyRoulette does not sell any tokens because it's supposed to be free. The only reason this premium membership exists in the first place is to make the user experience for the straight guys more rewarding.
In a way, this is a way more affordable cam site (if you think of a DirtyRoulette as a cam site) than most other platforms. Typically, a paid webcam would have more girls than men, and men would have a chance to see some streams for free. However, some real cyber-action would cost them tokens. And, part of the tokens men buy would go to the performing model.
None of this exists on DirtyRoulette, and this could be a good thing. Here, the only thing you pay for is to filter out all guys and focus on the girls mostly. Since the site does not reveal any info about its users, we'd say that models are not getting paid on this service. At least, judging from the cost of a monthly membership. So, it's all 'pure dirty,' no cash involved. Except, of course, the money you pay not to see random naked guys — if you that's not what you came to see, that is.
Payments are made over a credit card, do not seem to have any hidden costs or taxes, and — most importantly — they do no renew automatically. Also, they are done discreetly, so if you are thinking of giving the site a try, you will not have to worry about naughty stuff on your credit statement.
Special features for premium members
'Girls only' option is really the only premium feature of DirtyRoulette, which is its primary advantage. There are no more features to discuss here because the site does not offer any special features for premium members. The whole system is very democratic. It allows any user, regardless of their finances, to enjoy the full functionality of the service.
In contrast, most other cam sites would offer people tons of funny, nearly professional shows — like cheaper costs of spy shows, group shows, access to more profile info, etc. But, DirtyRoulette does not do that because their whole system works on luck, which makes it so much fun. And, of course, because it has little intention of ripping their users off — they get their revenue from online ads.
DirtyRoulette Video Chat Experience
The tech aspect of DirtyRoulette video chat is solid. The block screens are quite large, the image is fine, and the connection is stable on the server-side. So, if your own Internet connection is ok, you will see everything quite clearly.
Most streams are in 480p resolution, which is more than most affordable or free webcam sites can offer. Your partner's cam takes about half of your own screen, which is ok for most computers. You cannot go full-screen, but you can zoom in and out if you like. It, however, deforms the overall quality of the picture, so probably not the best idea.
As for the video sound, it gets pretty weird — just like everything else that is going on with DirtyRoulette. For starters, there is no volume control — you can either turn the sound on or mute it entirely. It is already pretty weird for a desktop-focused website because readjusting your sound levels on computers will affect all of your sound settings. That's not a big problem but may come as a big surprise later — when your other apps start screaming at you out of sudden.
And yes, you guessed it right. The audio aspect on DirtyRoulette leaves some room for improvement because you will feel like turning it on, getting the big surprise we mentioned above later. Sound quality is also not live and crispy. But, to be entirely fair, it is not DirtyRoulette's fault because they depend on the users' equipment. They cannot do much if the user is using a shitty mic or a cam in the first place.
Conclusion
All in all, DirtyRoulette has a fun concept that can go wrong only if you do not know how to use it. If you love watching naked guys, there is no better place for you. If you like getting naked in front of the camera and do not care who's watching, there is also — no better place for you. And if you came to see the naked girls, good then — get that $20 a month subscription and happy watching!
That price is way lower than you would otherwise spend on a mainstream cam site, and there is a considerable advantage. Girls on DirtyRoulette are not there to make money. They are there to get dirty. You will unlikely find anything like this on other cam services, so it makes DirtyRoulette worth a try. Besides, you can try your luck for free (just for the fun of it) and see if you can find who's ready and willing.
Speaking of design and usability, DirtyRoulette is simple and easy to use. The interface is self-explanatory, the tech behind audio and video is of quality, and the website does not have too many distracting elements. All of those are obvious pluses. The fact that the site does not sell or push subscriptions on their users is another bonus we are all grateful for.